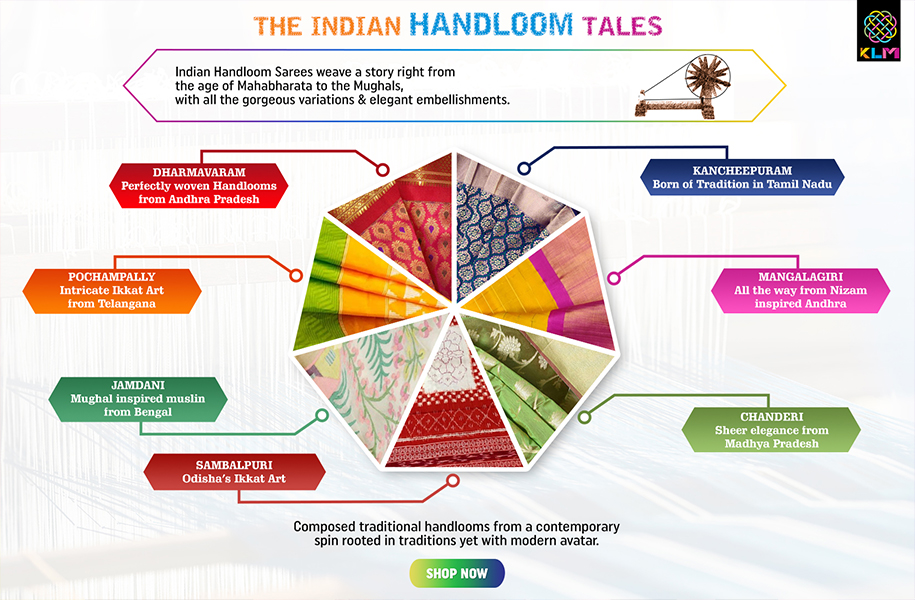 The Indian Handlooms are contemporary and has redefined its style and signature from ages to the age of this generation women. Right from the era of Mahabaratha, to Mughal spread India, to till date, every type of saree has its own prominence. A saree for sure occupies the best place in every woman's heart. It emanates an air of authority and confidence making the women look opulent and elegant. It dominates all the western wear, fusion wear and modern wear if draped perfectly.
The history of saree delves back right from the Indus valley civilization. The length of the saree varies from 5-9 yards, some times even more.
With the rise in technology in the fashion industry, the market is been captured by infinite types of sarees, in a riot of colors, and elegant embellishments. But, these can never replace the authenticity of the original sarees, which are woven to perfection, from the hands of the master of weavers, and reflect our country's culture & heritage in every detail of a saree. These signature sarees have occupied both the closet and heart of every woman.
Saree is one of the ensembles that showcase our culture in 9 yards. KLM Fashion Mall is now clocked up with the collection of sarees that reflects the heritage of every corner of the country. Come and check out the stunning saree collection.
Most occasions in India call for a traditional & ethnic look. KLM Fashion Mall now houses a wide choice for fashionistas to impart bold & sophisticated look with a huge variety of #sarees that go well with every important event you attend. Sarees- are not only breathtakingly beautiful, but they can also redefine the fashion statement. From classic styles to bold hues, contemporary designs to trending collection, we have it all.